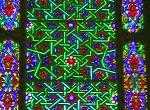 2003: Building Bridges
A more serious journey: we join a group of American theologians and ministers to encounter Islam in Jordan, Syria, and Egypt, where we meet with prominent figures in religion, government, and academia.
Who are we and what else do we do?

How we became eclipse junkies: Barbara went to India in the mid-seventies, which led to our fascination with football, which in turn led to our addiction to solar eclipses. The connection isn't obvious? Then let me explain.
Barbara is a writing coach, check out her website at http://www.BarbaraMcHugh.com.
Bill is Chairman of the Board of Directors of the vast Eclipsoid Industries cartel. His past work history is here.
Bill is a drummer, and played professionally through the '70s. He currently plays with Professional Help and Off Blue.
Barbara's father, the legendary pioneer television producer Fenton McHugh, is auther of the memoir First Cast.
Barbara and Bill meditate like their hair is on fire. Every Sunday they sit with the Marin Sangha.
1994: Lost on the Altiplano
We went to the Bolivian Altiplano, one of the loneliest places in the world, to see an eclipse. Our group got lost, and then...
Where have we been lately?

(Domestic travel omitted, even though Northern Wisconsin is, really, more exotic than Sikkim)
1990: Thailand
1991: Baja Sur; our first eclipse
1992: Bali
1994: Bolivia (eclipse) and Peru
1995: Rajasthan (eclipse)
1998: Trinidad (Carnival!) and Aruba (eclipse).
1999: Turkey (eclipse)
2000: Nepal, Sikkim, Assam, and Bhutan
2001: North-central Mexico
2002: South Africa (eclipse, but clouded out!)
2003: Cambodia and Vietnam
2003: Jordan, Syria, and Egypt
2005: South India
2006: Greece and Turkey
2007: New Orleans, as volunteers
2007: Northern Italy
2008: Mongolia (eclipse!)
2009: South China (eclipse, but clouded out!)
2010: Czech Republic and Austria
2011: Switzerland
2012: North Italy
2012: Northern California (annular eclipse!)